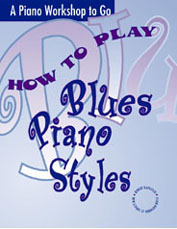 How to Play Blues Piano Styles
Perhaps the greatest invention of American music-or ANY music for that matter-is the blues. You hear its influence everyday. Now you can learn it in this basic program. But that's just the start. The second CD reveals how to use the basic blues elements for improvising. You'll learn the 12 bar blues form, the blues scale, and the blues rhythm. Put them all together using the exclusive techniques carefully demonstrated on the CD.

The special section on Boogie-Woogie explores the eight-to-the-bar left hand styles and the special jazz-swing chords that defined this music. Sections on 12-bar-blues variations, minor blues, eight bar blues, seven improvising techniques for instant results and even a CD listening guide. Special jump-start section for complete beginners.
It's simply the first and last words on playing blues piano. The material in this course is used for the NSAM Blues Piano Workshop taught in major university extension programs throughout the country. All levels.
How to Play Blues Piano Styles
For beginners.
One CD and book.

---
Deluxe Edition Includes both How to Play Blues Piano Styles and Blues Improvising Techniques in a single discounted package.
Book and two CD's. Beginners through Intermediate.



Comment/review this item
Mary Redmond - Thursday, September 15 2022, 21:17
Very good music book's
bill willis d d s - Wednesday, July 13 2022, 13:33
i have both continuing chord piano and blues piano styles is it possible to purchase the accompanying cd's. i really need these bill
Janet Yao - Wednesday, February 25 2009, 13:23
The "How to Play Blues Piano Style" is an excellent book for people who can play piano but not familiar with chords. I have never seen a chord book with so much details or instructions that are easy to follow. Janet Yao


| | | |
| --- | --- | --- |
| | | |