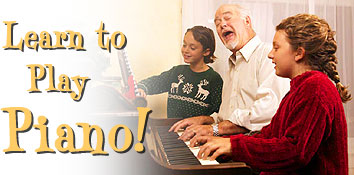 Receive information about product specials, upcoming events, and musical tips and tricks. Subscribe to our newsletter here.

Since 1982, we have taught more people to play the piano through our three hour workshop than anyone else on planet earth. These workshops are given throughout the U.S. by our specially trained Workshop Leaders. Check out our schedule to see if there is a workshop near you. (Yes, you can learn in hours — not years.)

Our books and CD's are customized for use in our workshops. This same courseware is available to you as self-guided programs. Check out the courseware catalog to see our complete offerings. You can learn to play piano at home without a teacher. Or find the program that's just right for your level and background by going here.
Learn Piano with Our Free Online Lessons
You can actually start today. Right here. Right now. Download a free lesson that explains in stunning simplicity what you need to know to get started. Skim through our library of mini lessons. Or visit our blog and post a comment.

Sure, playing music is fun. But learning it can be just as fun. We may not be able to turn you into a great piano player.

But we know how to make you sound like one.