Jump Start Pamphlet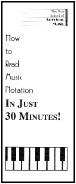 1. To view the pamphlet in your browser, simply click on the image at right. Make sure your browser is equipped with the Adobe Acrobat plug in.
2. To download the pdf file to your hard drive, either right click on the image (Windows) or press your option key, and click on the image (Macintosh). The pdf version of the pamphlet should download to your hard drive in the directory or folder you specify. You will then be able to print it.
3. If you don't already have Adobe Acrobat Reader, first download our pamphlet following the instructions above. Then click here to download Adobe Acrobat Reader.
4. If for any reason you would like us to mail you a copy of this pamphlet, simply click here and email us your mailing address.
Note: We hold all customer information in strict confidence. We have been in business since 1983 and have never sold, rented, traded or shared our customer information with anyone else. Privacy Statement.