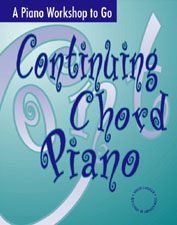 Continuing Chord Piano
Picks up where Popular Chord Style Piano leaves off. Reveals some of the best playing techniques of the pros (many of which are closely guarded secrets). The four audio programs are like having four complete programs. Simple Left Hand Variations presents over 20 examples of left hand alternatives. Simple Right Hand Variations reveals a dozen of the author's favorite tricks of the trade for the right hand. Includes four song examples and a chord chart. The Major and Minor Chord Drills give you practice in learning what you need to know about the most important chords. Use these audio programs with or without a piano.
It's the perfect pump-up for beginning pop piano players who are ready to shatter the barriers of mediocre playing. Get out of that rut, and start sounding like a pro! Intermediate.