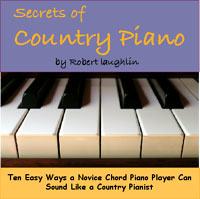 Secrets of Country Piano
Ever wonder how country artists like Floyd Cramer get their unique country piano sounds? I've actually talked to people who believe he uses a special kind of piano or a special tuning. That's definitely not how it's done.

That sound is created by using simple techniques on a normal piano. And if you already know a few chords on the piano, you can learn how to do it too. It's pretty easy, actually.

I learned these tricks in person from Grammy Award winning country pianist Floyd Domino. Floyd's perhaps best known for his early work with Asleep at the Wheel. More recently he has recorded with George Strait and Merle Haggard.

Of course I have my own way of teaching it in ten lessons that are easy to follow and fun to work with. Now you can create those country piano sounds with your own ten fingers.