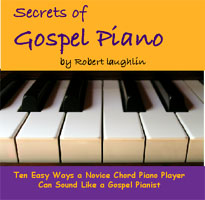 Secrets of Gospel Piano
To me there is nothing that compares with the sound of black gospel music for pure emotional impact. Much of that emotion is tied to the special sounds of gospel piano playing. It's mostly based on chords and bass runs, but you could search your piano for years looking for this sound without finding it. I know I did.

But I eventually tracked down some awesome gospel players, including the late Ed Kelly from Oakland and Allen Toussaint from New Orleans, and learned from them. And what I learned from them I pass on to you in the form of this CD.

Here are 10 private lessons in black gospel piano music for you to learn. The techniques are not difficult. But don't tell anybody else that. You will soon be sounding like a gospel pro.
Secrets of Gospel Piano
Intermediate.
One CD in jewel case.


Comment/review this item
Mary Carlisle - Thursday, March 4 2010, 12:10
I listened to the Gospel Piano CD in my car, and I got a LOT out of it!! Can't wait now to sit down at my keyboard and put some of it into practice! YEA!!! Mary Carlisle


| | | |
| --- | --- | --- |
| | | |