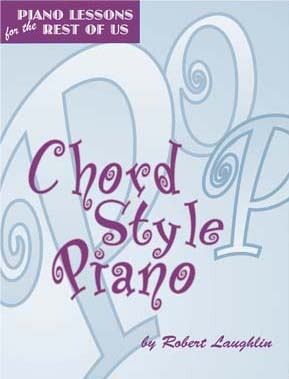 Popular Chord Style Piano
This is the basic introductory program for piano, keyboard, or organ. It shows all the basics so you'll be able to play any song in any key. You'll learn all the chords you need to know and how to use them. Dozens of playing tips with just enough theory. Complete chord charts — all in keyboard diagrams in addition to music notation — plus a Chord Substitution Chart and seven songs. All examples are recorded on CD (included). This is the basic course upon which all our other courses are based. Basic and essential.
Popular Chord Style Piano
This is the same program used in the Instant Piano for Hopelessly Busy People workshop.
One CD and book. For beginners.
Comment/review this item
F.A. (Marty) Martinez - Monday, July 20 2015, 12:37
I was given your Chord Style Piano (The Original One Day Workshop) Lost the CD And would like to purchase it. also the Blue's Book How can I do this.
Emmanuel - Sunday, February 1 2015, 16:07
Please how do I get your CDs and books I wanna know know to play piano
Angi - Sunday, November 29 2009, 21:03
Thank you again for sharing your expertise and talent. It is making a beautiful impact on our family.

Warmly~
Angi Hansen
Gary Alderson - Friday, November 6 2009, 14:26
For these last few weeks I have been having more fun playing with the piano than ever before in my life. I am sure that you have probably brought equal joy to the lives of many others without ever realizing it. So I wanted to say, "Thank You". Gary Alderson

Gill Pisani - Thursday, October 15 2009, 13:25
It's really good, clear and logical. THANK YOU! Gill Pisani

Loretta Bloesch - Monday, June 22 2009, 12:45
You have no idea how much pleasure I have gotten from playing the piano. Never in a million years would I have thought I could ever play the piano, but your course has paid off for me..... I just can't tell you how much joy I get from my piano playing. Thank you, thank you, thank you! Loretta Bloesch

Lew Rubin - Wednesday, December 10 2008, 14:23
I've been promoting your program to everyone who will listen-I think it's great and plan to order follow ups once I master what I've got.
Elsa Zoll - Tuesday, November 25 2008, 20:00
YOUR BOOKS HAVE HELPED ME A LOT AND HAS MADE MY LIFE HAPPIER. Elsa Zoll

Phil Hughes - Sunday, March 2 2008, 23:38
Sometimes it's just the right teacher and method that finally gets the
bulb lit, and you've sure done that for me and the piano. Phil Hughes
John Ragone - Sunday, February 26 2006, 10:59
Bought several of your programs and love your instructional style.

Bruce Gandal - Wednesday, November 22 2006, 12:44
Your courses are terrific!
Charlie - Tuesday, June 6 2006, 5:00
Keep up the good work! You have the best program out there for learning
the piano.

-Charlie
Ray - Thursday, June 1 2006, 19:34
I have just finished reading you newsletter and ordering your most recent set of CD's. You may not get rich in the business you're in- but you have given many of us a priceless gift- the joy of making music at the piano. I believe I speak for many others when I say I feel deeply indebted to you.

Many thanks,

Ray
Mark Ellinghaus - Thursday, September 11 2003, 18:50

I ordered you chord piano series and am enjoying it immensely. I'm interested in the blues. If I can only buy one, which do you recommend the Basic Blues video tape or the blues styles booklet and CD?
Nina MIchalski - Thursday, November 21 2002, 19:36

Just to let your know that I am finding the course very heplful. I have only began my journey. I like many was classically trained--I always wanted to "Jam" with other musicians but never could. I have also started studying with a teacher from Berklee School of Music in Boston, between this course and her instruction I will be able to go down a new direction. I will contact your school with recommendations of other things to order and be doing a lot more listening. Thank You.


| | | |
| --- | --- | --- |
| | | |