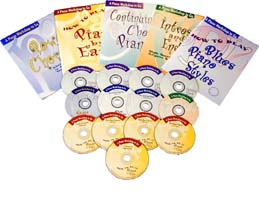 Home Study Integrated System
A collection of five of our most important home study programs. Once you grasp the basics of the Instant Piano method, you are set to play virtually any song for which you can get a chord chart. After a time, however, you may tire of the sounds you are getting from the piano. You hit a wall. Help for you is now here.
Many students hit this plateau and stagnate, because to make further progress, one needs the guidance of a professional pianist who knows the ropes. This collection is crammed with tips and trade secrets to get you to where you want to be in record time. Plus you'll actually have FUN along the way. Follow the Study Guide (included), and you have a prescriptive course to last you 18 months. You go at your own pace, so you can complete it sooner if you want, or take your time. A year and a half of private lessons could cost you over $4000, and you'd still not get as much information as there is here in this one program.
Includes the following titles:
Ultimate Integrated Learning System
You know the chords, but you want to learn the hidden secrets.
13 CDs, five books, study guide.



| | |
| --- | --- |
| | Click here to download the complete Study Guide in pdf format. Look it over to see if this powerful program is for you. It's the complete Study Guide as found in the Home Study Collection. |

Comment/review this item





Dee - Monday, March 15 2010, 17:25
May I say here that you do a fantastic job of detailing the chords and how to utilize your right and left hand. The drills really are a big help too! Thanx again! Dee


Robert Schornstheimer - Monday, February 1 2010, 14:37
You lay out the blueprint to success in learning piano with your "Success Manual." I now better appreciate the "why" and value of doing exercises on any instrument, how they will help, and how to integrate them into my practices in a progressive manner. Bob Schornstheimer


Judy Gathje - Wednesday, July 29 2009, 17:43
I just have to say that I cannot thank you ENOUGH for totally reviving my dream and making it a reality through your program. I actually love learning the music theory as it comes in the back door as part of the piano playing experience. I would never have imagined that I could make music with that piano the way I now can, and how much I enjoy how that music talks to my very soul and being.

I am not a virtuoso by any means, but twice I have had people come to my front door when I was playing and tell me that they wished they could play like that. We live on a corner lot on a somewhat busy street and people walk by our property all the time. I like to think that as they walk by and hear the piano, it brightens their day just a bit. I often sit down and play for 45 minutes to an hour. I never knew practicing could be this much fun. It just seems so easy to make progress and add on new "touches" to the music.

Thank you for your wonderful gift to me! Traditional lessons would have cost far more and I would not be playing and enjoying my piano and music the way I am now in just one year. Instead of a dream never realized, I have a dream come true and it brings me so much pleasure and relaxation.

You have a wonderful program. Thank you for blessing me. Thank you for giving me the opportunity to learn piano and actually get me playing better than I ever imagined I could.

Judy Gathje


Robert Stich - Saturday, June 13 2009, 17:21
know you've heard this before from many people, but I'm really having fun with this program! I can hardly wait to get further into the Blues lessons. In just a couple weeks I'm playing songs I never could have before. I started piano when I was a kid, but this time it's fun!

Sara - Thursday, May 28 2009, 20:09
I've finally recently started the 18 months course and am having a great time. Thank you!!! Listening to the chord tape quiz in the car I overshot my destination and was late yesterday.
Thanks,
Sara

Chas Schley - Monday, May 11 2009, 15:43
I started week 4 of the 18 month course today. My bride is still surprised at how much fun I'm having at it. She remembers the drudgery of classical lessons and not much of it stuck with her. She can't believe I'm having fun learning to play :)

Thanks!

Suzanne Stephens - Monday, December 1 2008, 16:49
I learned to play many years ago with the audio tape version of the New American School of Music. I love your program and especially love the flash cards for the ears. I am so glad you made the program. Suzanne Stephens

Dale Giroir - Tuesday, April 4 2006, 14:45
I have wanted to express to you personally how thrilled I am to have discovered your New School of American Music. The materials you have put together lay everything out that a person needs.

| | | |
| --- | --- | --- |
| | | |


New School of American Music
The Original One Day Piano Workshop
Direct email to .
© 2006 - 2018. All rights reserved.